Make It A Family Affair: Gardening With Your Children
Another busy weekend approaches with my two children, so I mentally prepare for the activities–my daughter's volleyball practice, my son's Science Club meeting, a trip to the grocery store–and that's just Saturday. What I need to do is gardening. Not only is my yard overdue for fresh flowers, but my soul needs gardening meditation. When did I last shop for garden plants?
As parents today, we somehow over-plan our free time and over-accept social invitations. What happened to the times when we were young? We would look forlornly at our mom and dad and, with complete sincerity, utter the words, "There's nothing to do." Maybe our gaming systems have stolen our ability to daydream. Maybe our smart phones make it too easy to text "yes" to every birthday party invitation. Maybe we have forgotten how to give our children some quiet time. I pondered this as we drove around town.
Sunday morning came and I looked upon my neglected yard from the kitchen. It then dawned on me. What did I crave most for my children and myself? We needed an old-fashioned, stay-at-home-with-nothing-to-do day. This lasted only a short time as sibling bickering began half way through pancakes. Instead, I told them to throw on old clothes and meet me outside to get dirty. They complained at first with images of hard labor, but once I pulled out the small shovel and plastic rake, plus some trimming shears for me, it was pretty simple. Although they were "working" in the garden, they were also playing with snails, digging their hands into the dirt, pouring water on each other, and laughing, not to mention working up a sweat.
Next, we headed out to buy a few garden plants, colorful flowers and some cool-weather vegetables. It would be enriching for them to watch something grow from a tiny plant to a mature vegetable. They would eat that meal knowing they made it happen with their own two hands. That potato would be best potato they had ever tasted.
We scurried home to plant our garden, using compost to nourish our new plants. The purple daisies immediately brightened the yard, but the tiny vegetable plants were disappointing to my children. In these times of instant gratification, waiting for vegetables to grow is, well, disappointing. Nevertheless, this was a learning experience for them and a cherished moment for me as I shared my love of gardening and the outdoors. We are still waiting for a bumper crop, but anticipation is good for the soul.
Flowering Shrubs Add A Burst Of Color To Any Landscape
Flowering shrubs can make an attractive addition to any landscape. When creating the perfect design for a yard, it is important to add color and a unique element to the flowery mix. Oftentimes, these plants are fragrant and used as a foundation plant for a stunning addition. It is not uncommon that they are used as hedging or to create a private feeling in a yard. There are many varieties that are popular, but here are some of the best flowering bushes to use.
Hydrangeas
There are hundreds of varieties of these shrubs available. They come in many beautiful color variations from pink, purple, white and even blue. They are commonly recognized for their large, fragrant pom-pom blossoms. The hydrangeas bloom from the early spring until late fall. They can grow rather large and are known to be able to climb a tree. First discovered in Southeastern Asia, these plants have been used for centuries to smoke, create teas or use as an ornamental plant. Their large and domineering appearance makes them the perfect additions to any landscaping.
Burning Bush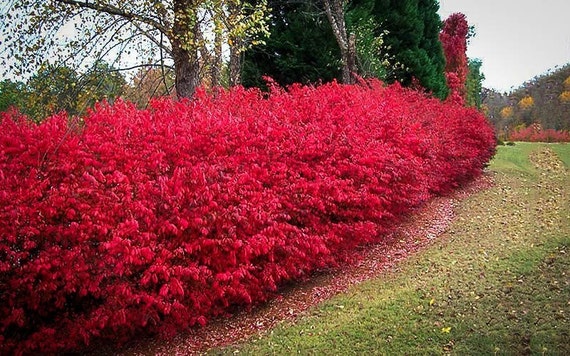 Named after the famous Biblical event in the book of Exodus, the burning bush is a stunning flowering scrub. These bushes flower in the autumn and add an attractive splash of color to the fall decor. As a giant bush, these can grow over 15 feet tall. The vibrant colors are various shades of red and can even have a touch of pink in them. This bush will also have berries that grow in the fall season. This pants were brought to the US from Asia. They prefer a rather dry soil, as opposed to wet conditions making them a Zone 4 plant.
Forsythias
Many people are shocked to learn that forsythias are actually a member of the olive family. Native to Eastern Asia, these bushes come in 11 different species. They are characteristically known for their grey-brown bark and their vibrant yellow flowers. Of all the flowering shrubs, this one is one of the most common to see around landscapes.This bush reaches its peak in the springtime and leaves a beautiful addition to any flower garden. They are hardy and can withstand different zones. It has been widely used by Chinese herbology, as one of the major 50 herbs. The branches of this bush are also used to create strings for the ajaeng instrument in Korea. These bushes are widely used in parks, gardens or along roadways because of their stunning beauty and versatility.
Flowering bushes can create a colorful array to any landscape design. These three varieties are hardy and boom over several weeks given any space a great hue of color. These bushes can withstand pests that would destroy other plants. They have vigorous growth and because of their root systems, they are a strong and sturdy option. When selecting the perfect shrubs for a landscape designs, these bushes can be paired with other plants and shrubs or be used alone. With fragrant smells and a burst of fabulous colors, these plants make the perfect addition to any area.
Gardening Made Easy 101
Order Plants Online and Save
It is a lot easier to sit at your computer and shop online, than to waste time and gas going shopping to all your local nurseries looking for plants. There are many to choose from, simply type in something general, in the search engine, such as, 'where to buy plants online', and it will give you a ton of options for your area. This is absolutely a genius idea, especially if you live where its really hot, or really cold. You never have to leave the comfort of your home. You sit and click, and they will let you know what is available now, you pay and then they deliver your plants, its that simple. If something is out of season or out of stock, the garden center online will let you know, and you can still place the order, but will only receive your plants when it is the right time. This is also a great option if you work a lot, you can order right from your desk, while working on your latest report, due in an hour, and you boss will never even know.
Get Plants From an Online Garden Center
A garden center online is an ideal choice for folks that may be elderly or handicap, and can't get around well. You can order from your bed if you choose. These places are also a very good opportunity to get great bargains on things that are going out of season, such as annuals, or seasonal plants, such as Poinsettias, or maybe Chrysanthemums. After their flowering season is over, the growers simply just want to get rid of their old stuff so they can bring in the new ones. So, if you keep your eyes peeled, you might find some really good deals, that they consider basically, 'throw away stuff', you can buy cheap and give some TLC – tender loving care, and nurse it back to health, and you have a beautiful inexpensive plant, that you never had to leave home to receive. Something else you might get really cheap are vegetable plants, that are tall and straggly, or the planting season has ended, but someone with a green thumb is bold enough to grow out of season, perhaps in a greenhouse on indoors, will jump at this opportunity.
Affordable Plants
To buy from a wholesale nursery is the best way to go, if they sell to the public, along with distributors. You get retail product at wholesale price, what can be better than that? Oh yes, not having to leave home to do it. You can still afford to have your plant and vegetables by using the garden center online, and saving money. If you pay attention, you might get a great deal by buying something at the end of its normal growing season, or perhaps buying in bulk can save you a lot of money also. So check out buying plants online, and you will be pleasantly surprised at the money you can save. Happy shopping!